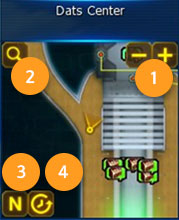 1

Zoom Out / In

Zoom out or zoom in the minimap.

2

Map reading

Clicking on the magnifier shaped icon on the top-left corner will open the map. Once the map is opened, you can view more details about the location. By clicking on the arrow on the top-left corner, larger areas that cover the current location can be viewed. This will let you give you an overview of the locations and help you plan your routes.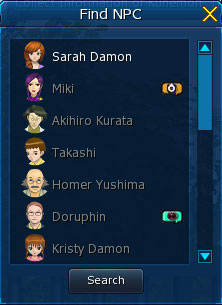 3

Find NPC

Click 'N' on the bottom-left corner of minimap to open the NPC list. Select the one you want to find and click Search button. You'll be guided to where the NPC is.

4

Boss Time Table

You can check information of the time when the boss monster will appear in your current location.
Minimap Icon

Description

Tamer's location

Tamer's location is marked as a white dot.
Yellow triangle coming from the white shows the direction of view.

New Quest

Shows the location of NPC looking for help. This indicates that a new
quest is available.

Daily Quest

Shows location where you can get a repeatable quest.

Completed Quest

Shows location where you should complete the quest by reporting
a result and receive rewards.

Mercenary Hatchery

Place for hatching Mercenary Digimon from the DigiEgg.

Scan/Return DigiEgg

Shows location where you scan/return DigiEgg.

Storage

Shows location of storage where you keep your items.

Portal

Shows Portal, the passage between maps.