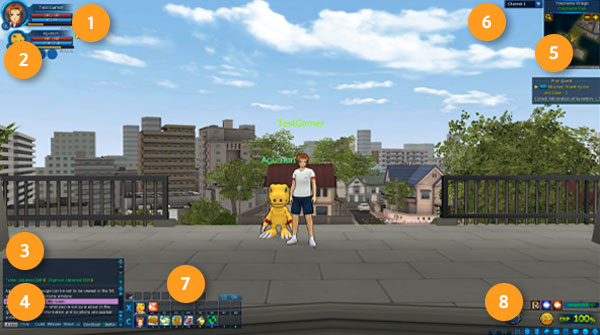 Tamer and Digimon Status View

Check your Tamer's Lvl., Digimon's Lvl. And HS/DA

Mercenary Digimon View

View your Mercenary Digimon's information.
You can also change it into a leading Digimon.

System Message Window

Here, you can check your battle status and tips.
Lots of helpful messages appear in this window.

Chat Window

You can check chatting messages such as general
conversation and shout.

Mini map

Displayed with Tamer's location & brief local information.
Minimize or Maximize the map as you wish.
You can also find NPCs on the map.

Channel Select Menu

You can select different channels and play.

Skill / Evolution Shortcut Window

Arrange the most frequently used skills or items as you wish.
You can also evolve your Digimon using the shortcut key
you assigned.

Game Menu

This window has game menu buttons such as Inventory,
Quest list, Friends list, and Help option.