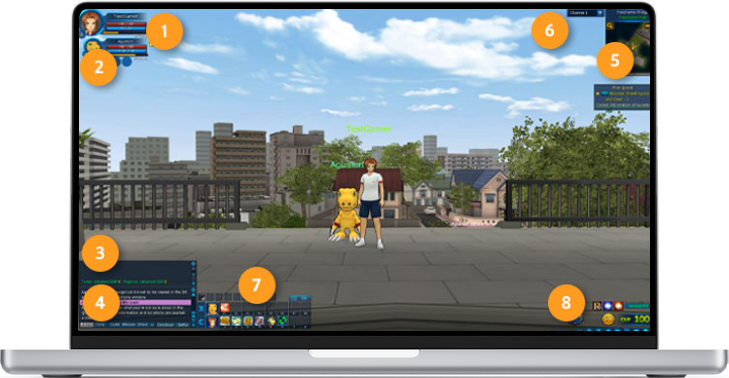 1

Tamer and Digimon Status View

Check your Tamer's Level, Digimon's Level, and Fatigue/DS

2

Mercenary Digimon View

View your Mercenary Digimon's status. You can also change your current partner Digimon.

3

System Message Window

Check your battle status and tips. Many helpful messages appear in this window.

4

Chat Window

Check chatting messages such as messages from other Tamers, whispers, and shout.

5

Mini map

Tamer's location and brief local information displayed. Minimize or Maximize the map as you wish.
You can also find NPCs on the map.

6

Channel Select Menu

You can select different channels to play in.

7

Skill / Evolution Shortcut Window

Arrange frequently used skills or items as you wish. You can also evolve your Digimon using the shortcut key you assigned.

8

Game Menu

This window has game menu buttons such as Inventory, Quest List, Friends List, and Option.