Subject

Recruiting Digimon Masters Online Supporters!

Date

04-18-2017

Views

13,752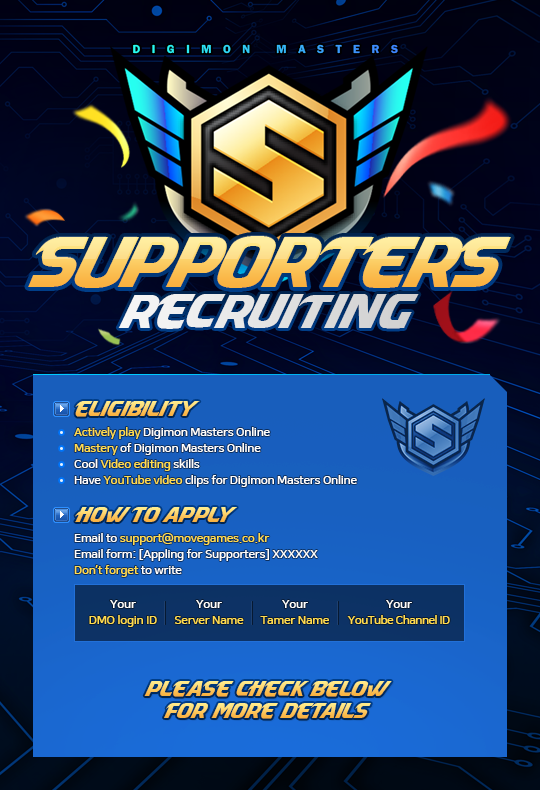 Hello, Tamers!
We are recruiting "Digimon Masters Online Supporters." Supporters will help new players
get accustomed to playing DMO.
New players can also get tips and strategies via the help of "Supporters."
Supporters are also asked to make 1 video every 2 weeks.
Should you be interested, below is our current schedule and incentives:
Recruiting for 3 Months: May, June, July
Video Theme
1.Walk through instance Dungeons for new users
2.Walk through on how to level up for new users
3.Any tips and help for new users
4.Please tell us if you have any other theme that you would like to do!
Reward
1.2000 Gameking crown will be given monthly (equivalent Digimon items for Steam users)
2.If you need some support to run events or make video clips, we will support you
3.Your video might be on the main Digimon web page. (Gameking)
(You can upload your video on video-sharing websites as well)
4.Some costume will be given (TBA)
*** Caution***
You will be asked to send us one video file every 2 weeks so that
we will be able to upload your video on our main webpage.
**** How to apply ***
Email to support@movegames.co.kr
Email form: [Applying for Supporters] xxxxxxx
Don't forget to write:
1. Your DMO login ID
2. Your Server Name
3. Your Tamer Name
4. Your Youtude Channel ID
If you think you are the right person, apply now!!!
Deadline: Apply by April 27th!