Subject

CLODES

Birth of Gabumon X

Date

09-28-2018

Views

44,985

[Update]

#01. X-Antibody: Gabumon X Update

Gabumon evolves into Gabumon X by the effect of X-Antibody.
[Contents]
1. Gabumon X Type Basic Info
- Ability stats drastically increased, X-antibody aura displayed after the X-evolution
2. Gabumon X Type Evolution Info



3. Gabumon X Type Skill Info




※ X-Antibody Factor: Agumon which was missing from the last update and X-Antibody Factor: Gabumon will be added in the exchange list of X-Antibody Factor Exchange Ticket.​


#02. Rare Machine Beta Ver. (Tamer) Update

The duration of DigiAura and Jogress Chip obtained from Rare Machine Beta is changed from 30 days to 90 days.
[Contents]
- DigiAura [30 Days], Jogress Chip [30 Days] are replaced by DigiAura [90 Days] and Jogress Chip [90 Days].






[Event]

#01. Birth of X-Evolution: Gabumon X

- Period: After maintenance of 28th Sep 2018 ~ before maintenance of 10th Oct 2018

[Support for X-Evolution]
- When your Gabumon evolves to Gabumon X, Garurumon X, WereGarurumon X, MetalGarurumon X, you can receive the rewards.
- You can receive reward from NPC Gabumon X in DATS Center for accomplishing the first X-evolution.






#02. Returning to the Small Forests

- Period: After maintenance of 11th Sep 2018 ~ before maintenance of 10th Oct 2018

[Forests of Nostalgia]
The closed areas of the real world is opened for a certain period of time.

[The path to Small Forests are open once again]
- [Small Forest Park], [Small Forest Trail] can be entered (dungeon maps)
- You can obtain item [Ticket to Nostalgic Area] from Ancient Troiamon that appears from all maps of Real World & Digital World, by certain chance.
- You can obtain [Ticket to Nostalgic Area] from Ancient Troiamon (Raid) by 100% chance when you defeat it.
- Ancient Troiamon (Raid) Emerging Areas



- The 2 maps will be gradually opened by following schedule





#03. Check your Attendance Here! Let's Not Miss a Day!
- Gather all the rewards by logging-in Digimon Masters Online everyday.
- Period: Unlimited

[About the Attendance Check]
- You can check the rewards of attendance check event from the "Event Contents UI" window everyday.
- Don't forget to log-in every 28 days to claim the final attendance reward.
- When the event cycle (28 days) is over, attendance check record will be initialized and you'll restart from the first.
- Reward items can be received from your Cash Warehouse.
- The rewards are character bound.

[Attendance Check Rewards]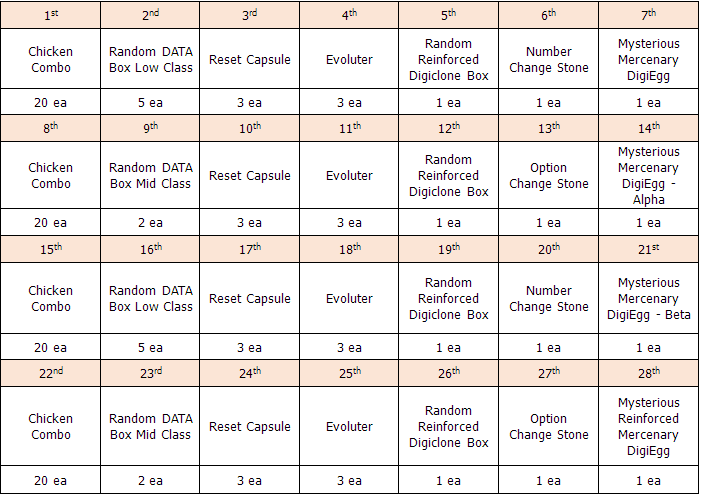 #04. TIME for the ITEMs!

- Period: After maintenance of 28th Sep 2018 ~ before maintenance of 10th Oct 2018
You can obtain the rewards below when you stay online for certain period of time.

[Log-in and Claim the Rewards!]
- [Reward Item List]




※Caution:
- All the rewards are untradable.
- Reward distribution time is reset every midnight (00:00) (GMT +9).
- Log-in Reward Coin can be exchanged for Mercenary DigiEgg through [Event] Yukidarumon.


# 05. Turn on the heat with burning EXP in Digimon Masters Online!

- Burning time will be applied 2 times a day to boost your EXP gaining!
- Period: Unlimited
(1) Burning Time: 500% additional EXP applied every 11:00~14:00 & 23:00 ~ 02:00 (GMT+09).

※The 500% EXP boost is a fixed value during the event time and it is not overlapped with the normal EXP boost.


[Promotion]

# 01. Mysterious X-Antibody Factor: Gabumon X

- Period: After maintenance of 28th Sep 2018 ~ Unlimited
- Mysterious X-Antibody Factor: Gabumon X will be on sales after the maintenance.
- You can obtain one of the X-Antibody Factors below when you scan this item

[X-Antibody Factor List]
- X-Antibody Factor: Gabumon
- X-Antibody Factor: Garurumon
- X-Antibody Factor: WereGarurumon
- X-Antibody Factor: MetalGarurumon
- X-Antibody Factor: Dorumon [DexDorugamon]
- X-Antibody Factor: DexDorugamon
- X-Antibody Factor: DexDoruGreymon
- X-Antibody Factor: DexDorugoramon
- X-Antibody Factor: Dexmon
- X-Antibody Factor: Ryuudamon
- X-Antibody Factor: GinRyuumon
- X-Antibody Factor: HisyaRyuumon
- X-Antibody Factor: OuRyuumon
- X-Antibody Factor: FanBeemon
- X-Antibody Factor: Waspmon
- X-Antibody Factor: CannonBeemon
- X-Antibody Factor: TigerVespamon


# 02. Mysterious X-Antibody Factor: Agumon X Package, Gabumon X Package on Limited Sales

- Period: After maintenance of 28th Sep 2018 ~ before maintenance of 23rd Oct 2018
- Mysterious X-Antibody Factor: Agumon X Package and Mysterious X-Antibody Factor: Gabumon X Package will be on sales for a limited time.

- Mysterious X-Antibody Factor: Agumon X Package
[Components]
- Mysterious X-Antibody Factor: Agumon X 5ea
- Mysterious X-Antibody Factor: Gabumon X 1ea

- Mysterious X-Antibody Factor: Gabumon X Package
[Components]
- Mysterious X-Antibody Factor: Gabumon X 5ea
- Mysterious X-Antibody Factor: Agumon X 1ea