Subject

IN PROGRESS

Welcome New Tamers to Digital World!

Date

07-20-2016

Views

835,740



Mission 1. Complete Tutorial and Get Rewards

Mission 2. Welcome to Digital World
Welcome to Digital World, new comers! Raise your level and get rewards for boosting your gameplay!
Have fun!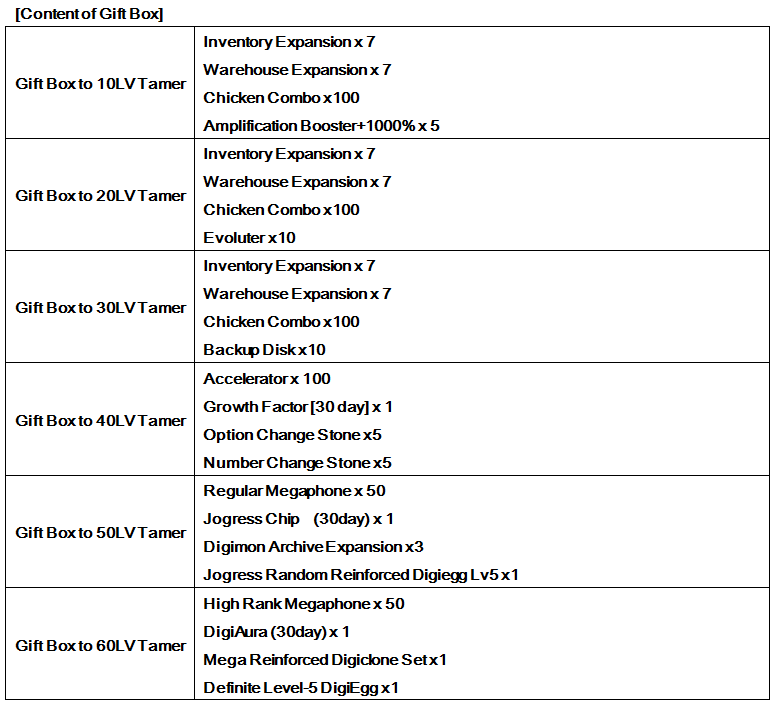 ※ Note: Important! Please read!
- Only the tamers which were created after maintenance
on May 30th, 2017 can receive rewards.
​- The Gift Box will be sent to your Gift & Reward item storage,
once your Tamer has reached the certain level notified.
- Rewards will be expired after 7 days of provision in storage,
so please receive it as soon as possible.
- The reward items are chracter bound and cannot be traded.
- Each Gift Box can be received once per account only. (important)
- Only new Tamers can receive the Gift Box.​