1. Goal of Operation Policy
The aim of this operation policy is to regulate conditions members need to abide by for provision of services, protection of member usage rights and smooth game playing based on fairness of problems that can arise when members use Digimon Masters (hereinafter referred to as the "game") provided by MOVEINTERACTIVE Co., Ltd (hereinafter referred to as the "company").
All conditions that are not mentioned in this operation policy shall be handled based on the usage terms, related laws, and general sentiments and common sense shared by the members and company, or evaluations or judgments shall be made based on application of similar standards.
It is recommended that members thoroughly read the operation policy as it includes information about points of caution when using the service.
2. Application and Notification of Operation Policy
All services provided to members within the game are based on this policy, and the policy is limited to the game.
The company may revise, change and delete the operation policy for effective operation, and in case a revision is made the date of application shall be notified 7 days before the date, and in case revisions are made to contents that could put members at a disadvantage or important contents, a pre-notification shall be made at least 30 days before the date or notifications shall be made through e-mail.
The company shall not be held responsible for any disadvantages suffered by members for failing to read and understand this operation policy and revisions.
3. Duties and Rights of Members
Members must abide by the operation policy to receive quality services, and may demand fair rights based on the policy.
Members may make suggestions about systems or contents of the game, report bugs and make inquiries about game services in general through the customer center (e-mail).
Members must install a PC hacking prevention program, vaccine program or operation system security patch, or regularly change their password or make similar efforts to protect their personal information.
In case members discover a weakness of the game (bug, account theft, illegal program), they must report it through the customer center.
In case there is a problem with the operation policy, members may register an objection to the company at any time and receive help according to the result of treatment.
4. Role and Duties of the GM
The GM (game master or operator) understands the operation policy and conducts his or her role to provide an optimal environment for stable and enjoyable playing of the game service by members.
The GM receives reports of all forms of bugs that can occur.
The GM may restrict members who have violated the operation policy based on the operation policy.
The GM shall not be involved in disputes between members. However, restrictions may be set such as limited use of forced game ending when necessary for regular operations.
The GM replies to customer inquiries and requests as fast as possible in the most polite manner. However, replies may be limited regarding information that cannot be revealed because of the game plan.
The GM does not ask for personal information of members such as ID (account) or password, and does not randomly revise or leak personal information. However, in case a judicial organization makes an official request for cooperation, the formal process of providing information may be conducted.
In case a situation not mentioned above arises and the GM considers it necessary for smooth game operation, the GM may take appropriate measures according to the regulations of the game shared by the GM and game users.
5. Character's Name and Guild Name Policy
The game user may freely select their character's name or guild name, but in case of one of the following cases, the company may take measures such as restraints according to the standard of this operation policy, or the GM may change or delete the character's name or guild name without prior notification.

In case the name slanders the company, employees of the company or company services.
In case the name claims to be the company or GM, or it is judged that there is intent to pretend to be the company or GM.
In case it contains swear words or vulgar slang.
Provocative or obscene words.
Anti-social words or words that come in conflict with related laws
In case the name violates the trademark rights, copyrights or intellectual rights of the company or a third party.
In case the judgment is made that there is intent to trade items or accounts or trade items or accounts for cash.
In case the name advertises or promotes a certain subject.
In case the name is one of the above with an intentional error in spelling or one of the above combined with different letters in front of and behind the words.
In case the name is some other form of a word that is judged socially unacceptable.

Please report to the customer center if you discover a character's name that violates this policy.
Even if it is not a name included in the list above, any name that makes another customer feel uncomfortable or unpleasant may be subject to measures according to the game related naming policy.
6. Account Theft/Hacking Related Policy
Account theft is when a member logs in to a game with someone else's character and uses elements of the account without permission or causes damages in any way.
According to the 'Act on Promotion of Information and Communication Network Utilization and information Protection, etc.' hacking refers to illegal entrance to another person's computer system and taking away or destroying data.
The operation team may temporarily not provide account theft/hacking related services for better service in the future. However, an appropriate process and rational measures are provided for account theft/hacking that arises due to a system error.
7. Restraint of Offensive Actions
Offensive actions refers to actions that violate the conditions of this policy, and include interrupting normal game procedure, or posting of offensive contents etc. causing damage or discomfort for other members.
Board post writing prohibition refers to a measure of deleting posts or restricting writing privileges.
Account seizure refers to the measure of prohibiting use of all Digimon Masters services (game and boards).
Abusing refers to actions of acquiring game information through unfair methods.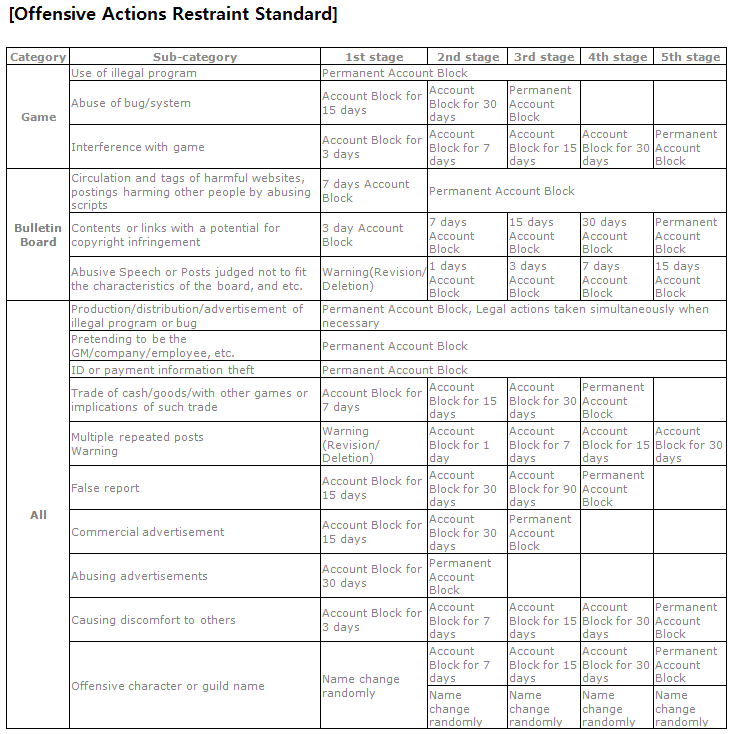 All Offensive Actions Restraint Standard's penalties can be modified by GM's authority.
8. Policy on Website Usage
The company may temporarily stop services for regular check-ups or to improve service quality. The company shall notify members of the reason and period before stopping services except for circumstances when pre-notification is not possible.
Posts refer to all posts on all boards and all information related to the posts.
Members must write posts considering the characteristics of boards, abide by related laws, and not violate the rights of others.
In case the accumulated volume of posts has a possibility of interrupting smooth service or cause inconvenience of discomfort, the company may regularly or irregularly delete past posts.
The GM may delete posts on boards without notifying the writer in case posts on various boards are considered offensive actions, and the writer may be subject to restraints according to this policy.
A board can be newly created or closed according to needs of game operation, and in case a board is closed the existing posts may be moved to another board or deleted.
Use of website service including the boards may be limited depending on the purpose of a board and restrictions